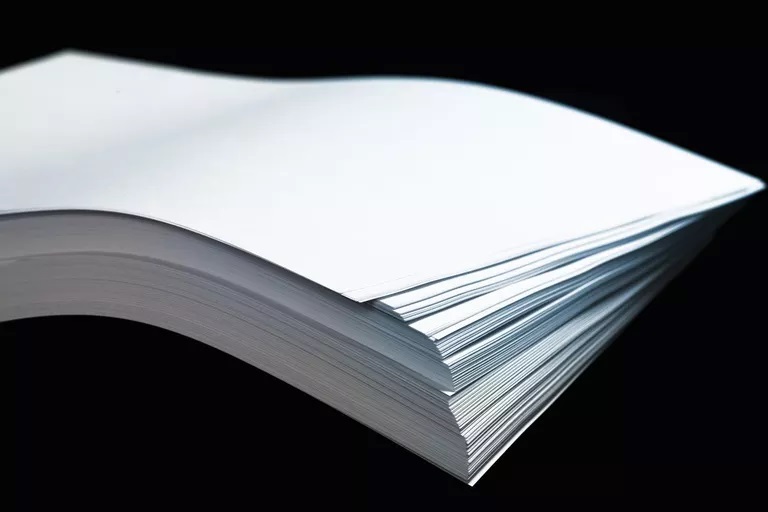 What is Bond Paper?
Bond paper is a durable paper that is especially suitable for electronic printing and use in office machines including copiers and network and desktop printers. It is typically used for letterheads, stationery, business forms, and a variety of documents produced with inkjet and laser printers. For example, many of the invoices you get in the mail are printed on bond paper.
Paper Size
Bond paper has a basic size of 17 inches by 22 inches and a basis weight of 20 pounds and is characterized by erasability, good absorption, and rigidity. A paper's basis weight is determined by the weight of 500 sheets of the paper at its basic size. In the case of 20-pound bond paper, 500 sheets of 17 inches by 22 inches bond paper weighs 20 pounds. Even when the large sheet is cut down to other sizes, including the ubiquitous 8.5 by 11-inch size, it is still referred to as 20-pound paper.
Bond paper comes in other weights that range from 16-pound to 36-pound. As you might expect, the higher the number, the heavier and thicker the sheet of paper. It also comes in a variety of sizes, although the standard letter page size, 8.5 by 11 inches, is by far the most common. It is also available in legal size, 8.5 by 14 inches, and ledger size, 11 by 17 inches, among other sizes.
Paper Quantities
Bond paper sold in office supply stores typically comes in letter size reams of 500 sheets, sold individually or by the case. White is the most common color, but bond papers can come in pastels, neon brights, and other assorted colors.
Smaller packs of specialty bond paper with designs or special finishes usually come in smaller packs of 50 to 100 sheets. Frequently, these are sold for use as do-it-yourself letterhead or flyers. Also good for use as a writing paper, bond papers come in a variety of finishes and textures including cockle, laid, linen, and wove.
Other Paper Specifications
Other specifications found on packages of bond paper are its brightness, whether it is coated or uncoated, and whether it is watermarked. The majority of bond paper used in home and office environments is uncoated and not watermarked.
Brightness
A paper's brightness measures the amount of reflectance of a specific wavelength of blue light. Brightness is measured on a scale of 0 to 100 — the higher the number, the brighter the paper. In other words, 95 bright paper reflects more light than an 85 bright paper, therefore appearing brighter.
Coated vs. Uncoated
Coated paper restricts the amount of ink that is absorbed by the paper and how the ink bleeds into the paper. This is desirable for sharp and complex images as the ink stays on top of the paper and does not wick or bleed, which reduces the sharpness of the printed material. Uncoated paper is generally not as smooth as coated paper and tends to be more porous. Uncoated paper is usually used for letterhead, envelopes, and printed material.
Watermarked Paper
Watermarked paper has an identifying image or pattern in paper that appears as various shades of lightness or darkness when viewed by transmitted light or when viewed by reflected light, which is caused by thickness or density variations in the paper. If you hold the paper up to the light, you can see an identifying mark or brand coming through the paper.
When it comes to stationery, a watermark is perceived as being elegant and sophisticated. Paper currency is usually printed on watermarked paper as an anti-counterfeiting measure.